As destination wedding specialists, we will offer destination and resort options tailored specifically to your needs and desires…
You may feel a destination wedding may be out of your budget, and too much work, but when you consider the costs and effort involved with a traditional wedding, brides often find that this option is well within reach.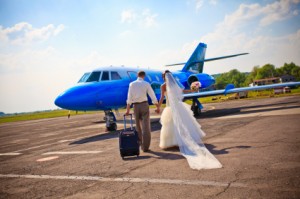 When you plan a traditional wedding at home, you choose a location, flowers, photographers, transportation, and that's just the beginning!  Deciding on a venue for your reception, hiring a caterer, bartender and wedding cake designer, finding the right DJ or band, arranging lodging for your out of town guests, and the list goes on… then you must find time to plan your honeymoon!We can advise what you can expect to accomplish with your budget, and if you simply have no idea what to expect, we can provide several options for you to work with.
Let your imagination be your guide…
A destination wedding is a one stop wedding shop! Your package will usually include your officiant, photos, your cake, a beautiful location, and your honeymoon all in one. Your attendants and guests can choose to stay as few or as many nights as they like, will have their accommodations included, and since these resorts are usually all-inclusive, all food (and drink) is already included. We have found that many invited guests will welcome the chance to plan a vacation around your wedding; in fact, many brides are surprised at how many guests actually decide to attend.
The best part for you, as the bride, is that once you choose your date and resort, your work is done! You simply advise your guests, through your save the date cards or invitations, that the planning and booking is being done through Time of Your Life Travel. Once your guests and attendants contact us, we book their package and keep track of your guests for you, and will also keep the resort advised of your guest list.  We act as the liaison between the onsite wedding coordinator and the bride, so that everything is clear and organized.
You can actually look forward to stress-free wedding planning, as well as having your dream honeymoon taken care of, once you make your first call to us. We promise to give your wedding and honeymoon the one-on-one attention it deserves; after all, you only plan on doing this one time, and it should be perfect!